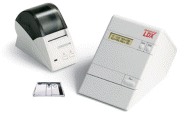 The Cholestech LDX® System, using patented, innovative technology, measures a complete lipid profile plus glucose, ALT•AST, and hs-CRP in only 5 minutes (6 minutes for hs-CRP) from a simple fingerstick. With our ALT•AST test, you can get immediate liver enzyme results.
The scope of its measurement capabilities is not the only advantage to healthcare providers. The physician, nurse or technician can now share the results of testing with the patient on the spot, which means that action can be taken and treatment can begin immediately.
Health & Fitness Network has placement systems and loaner programs for hospitals, screening companies and physicians who may need multiple units for health fair screenings.
Key Features
A small, portable footprint (21cm x 12cm or 8¼" x 4¾") for easy tabletop usage and storage
System includes an easy-to-use printer that provides duplicate copies of test-results — one for you, one for the patient
Lightweight design ideal for office and other point-of-care applications
Factory calibrated, with easy and inexpensive software upgrades
Fast, 3-step procedure saves time, enhances productivity
Requires only a single drop of blood from a simple fingerstick and eliminates the anxiety of venipuncture.
Provides virtually immediate feedback for on-the-spot adjustment of therapy and improved patient compliance
It's the only CLIA-waived system of its kind and meets all relevant National Cholesterol Education Program (NCEP) guidelines for precision and accuracy
CRMLN certified 426 13188 Rev. A
Cholesterol Reference Method Laboratory Network
Cholestech LDX System Includes:
Analyzer
Printer
Power Supply
Starter Pack (U.S. only)
Optics Check Cassette
Printer Cable
User Manual
Procedure Manual (U.S. only)
Training Video
Contact Health & Fitness Network today to learn more about the Cholestech LDX Lipid Analyzer and purchase today!