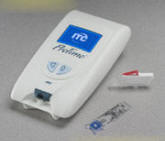 The ProTime® Microcoagulation System for prothrombin time testing is designed to safely monitor warfarin therapy. The ProTime System consists of the ProTime instrument, the reagent cuvette with built-in quality control, and the Tenderlett® Plus sample collection system. The test procedure is simple, and performance is comparable to laboratories.
Advanced Technology for Improved Patient Care:
Accepts and stores patient and/or operator ID for reduced transcription errors
Auto-sends results quickly and easily to printer, computer or LIS
Only system offering the flexibility of both on-board and optional external quality controls
Thromboplastin reagent of ISI = 1.0 (AHA, CAP, and WHO recommended)
Off-meter sampling provides safety against disease transmission
Barcoded cuvette – no coding necessary
Longer open-pouch stability, up to 16 hours
Available for patient self-testing
Contact Health & Fitness Network today to learn more about the ProTime® Microcoagulation Systemmonitor and purchase today!