Thyroid Testing Kits


Knowing who's not hypothyroid lets you make timely decisions in your office, saving you and your patients time and money.A rapid test for elevated TSH, the first clinical indicator of hypothyroidism. ThyroChek requires a drop of blood, with results in minutes.
Test Patient on First Visit
Staff Members Perform Test
Results in 10 Minutes
High Precison, Sensitivity, Specificity at 5 mIU/L
Established CPT Code 84443 QW
Reimbursement $23.47
Store at Room Temperature
| | |
| --- | --- |
| Item Number | Product |
| 120-A | 20 Tests (Boxed): (#120-A) With controlled volume pipettes, buffer and instructions. |
| 120-B | 20 Tests (Bagged): (#120-B) With controlled volume pipettes buffer and instructions. |
| 120-C | Set of Controls: (#120-C) Positive and negative human serum. |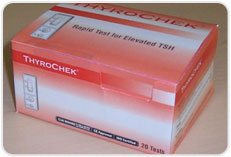 About ThyroChek ThyroChek, developed by doctors, tests for elevated thyroid stimulating hormone (TSH) in whole blood. Elevated TSH is the first clinical indicator of hypothyroidism.
ThyroChek is a rapid immunoassay that is easy to use, cost effective and accurate. It is ideal for physician office labs, pharmacy programs and health promotion.
ThyroChek is CLIA waived and may be performed in either waived or moderately complex facilities without special staff training. ThyroChek requires one drop of blood from a finger stick or venous draw. The result is available in 10 minutes.
Two pink lines indicate a positive result – TSH level is greater than 5 mIU/L. This cut-off is the current WHO standard for the indication of hypothyroidism in adults. One pink line indicates a negative result – TSH level is less than 5mIU/L.
Why Test for Hypothyroidism? There are 27 million Americans who have overactive or underactive thyroids. Half remain undiagnosed; over 90% of them will have underactive thyroids, or hypothyroidism. The thyroid is the small, butterfly-shaped gland just below the Adam's apple. It produces hormones that influence every organ, tissue and cell of the body. If the thyroid does not work, the body doesn't work well either. Thyroid disease is genetic. Left untreated, hypothyroidism can cause elevated cholesterol, infertility, muscle weakness, osteoporosis, lupus and a range of other autoimmune diseases. Fifteen to 20 percent of people with diabetes have siblings or parents that are likely to develop thyroid disease. ThyroChek helps you as a doctor, a pharmacist or a wellness provider to answer the question: Could it be the thyroid? Information on this site is from www.aace.com, the website of the American Association of Clinical Endocrinologists.