Microlife MedGem Metabolism-Based Weight Management Solutions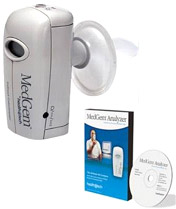 The MedGem RMR indirect calorimeter is a clinically-validated and FDA 510K-cleared, class II, medical device for measurement of patient resting metabolic rate (RMR).
Instead of estimating RMR with the Harris-Benedict or Katch-McArdle formula, the MedGem scientifically measures a clients Metabolic Fingerprint, that is unique to them.
Estimation formulas cannot factor in thyroid issues, the effects of medications, etc.
For the best care, the American Dietetics Association recommends using indirect calorimetry to measure RMR for the most accurate assessment of nutritional needs.
The MedGem is the same type of indirect calorimeter as the BodyGem, but it's designed for professionals who need an FDA-approved device, to make insurance claims.
It's Simple – To perform a measurement, your client simply breathes into the MedGem, which measures their oxygen consumption (VO2), the resulting RMR number is clearly displayed on the device's LCD screen.
It's Accurate – The MedGem has been validated against the gold standard Douglas Bag, and other commonly used metabolic carts
It's Convenient – The MedGem comes with a portable carry case, it's self-calibrating, easy to administer, and provides a result in 10 minutes or less.
It's Affordable – The MedGem is available in different measurement capacities to ensure your organization has the right device for your needs.
MedGem Analyzer Software
Physicians, nutritionists,  and other healthcare professionals can provide patients with a more accurate nutritional assessment and individualized weight management program.
With MedGem Analyzer individual measurements can be stored and utilized to develop personalized nutrition & activity plans designed to improve energy balance literacy and patient self-management of daily nutrition, exercise, and other health goals.
Offer your clients the best possible results by incorporating the MedGem tools and solutions into your programs.
There isn't a simpler, more accurate or profitable way to tailor each client's program for ultimate success.
Microlife MedGem System Kit Options:
The MedGem System Kit Includes:
MedGem Indirect Calorimeter with a 2-year warranty
One 21-pack Mouthpiece Filters and Nose Clips
MedGem Analyzer Software
A lightweight Carrying Case
A Marketing Materials Kit with posters and trifold brochures
The MedGem System Kit is the best long-term system, because it has the lowest per-use cost.
Additional 21-packs of Mouthpiece Filters and Nose Clips are $299.
When you purchase two 21-packs, you get one 21-pack for FREE.
The MedGem Starter System Kit includes everything you need to administer 40 measurements, including:
MedGem Indirect Calorimeter that's setup for 40 measurements
MedGem Analyzer Software
42 Mouthpiece Filters and Nose Clips
A lightweight Carrying Case
A Marketing Materials Kit with posters and trifold brochures.
The MedGem Starter Kit is a great entry level system if you have low volume or are looking to evaluate the device.
To continue testing, the MedGem Starter Reorder Kits give you everything you need for 40 more measurement.
Contact me at 1-800-743-3328 to discuss MedGem RMR System Kit pricing options.
Harvey Harris

---
Microlife's WatchWT MedGem device is being used to assess metabolic changes in The Biggest Loser™ contestants. "We chose to use the MedGem device based on its accuracy in comparison to other indirect calorimeters." said Dr. Robert Huizenga, Associate Professor of Clinical Medicine at UCLA and Medical Advisor to The Biggest Loser
Additional Information
Click here for sample of the MedGem Analyzer client report
Click here of a copy of the MedGem validation study
MedGem Insurance Information
Reimbursement rates range from $60 – $80 in total (Pt. Co-pay + reimbursement).
CPT Code 94690 (oxygen uptake) is a pulmonary code therefore it is suggested
that supporting ICD-9 codes be pulmonary in nature.
Click here for a MedGem CPT Codes summary
MedGem Case Studies (Click to open up the PDF)

Save
Save