The Microlife BodyGem and MedGem indirect calorimeters determine RMR, to use with meal-planning software, such as Nutrition Maker Software.
It only takes 5-10 minutes for the BodyGem and Medgem to measure VO2 to determine RMR.
The Resting Metabolic Rate number is displayed on the LCD panel of the MedGem and BodyGem.
That RMR value can then be entered into the Nutrition Maker Software to calculate exact calorie requirements, and then recommend menu plans to meet specific health and disease prevention goals.
Nutrition Maker is an online software for dietitians and nutritionists, created by BioEx Systems.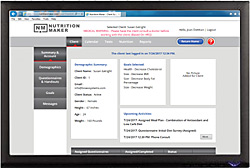 It is a comprehensive online software for professional Dietitians and Nutritionists.
It is a cloud based software program for dietitians, nutritionists, medical wellness and related nutrition professionals.
Nutrition Maker online tracks patient biometrics, assesses health risks, provides custom tailored meal plans, and obtains patient diet history analysis.
Combined with a personalized patient access portal, complete with messaging, the result is a modern patient engagement platform.
They provide easy to use and affordable software for the professional dietitian and nutritionist. Nutrition Maker will simplify meal planning, diet analysis and nutrition consults. Clients benefit by receiving personalized meal planning, shopping lists and recipes to help them transition to a healthier lifestyle.
It is an affordable nutrition system for providing meal plans, recipes, shopping lists and dietary analysis.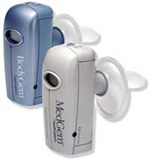 The BodyGem® and MedGem® devices by Microlife are tools that will provide information vital for determining a personalized calorie budget, based on individual metabolism, necessary to achieve and maintain proper weight and nutrition.
Additionally, the BodyGem and MedGem devices play a significant role in providing individual's daily caloric needs to improve individual care through nutrition assessment.
Click on the links for more information on the Microlife BodyGem or MedGem indirect calorimeters
Contact me at 1-800-743-3328 to discuss Microlife BodyGem RMR System Kit pricing options.
Harvey Harris
Save
Save