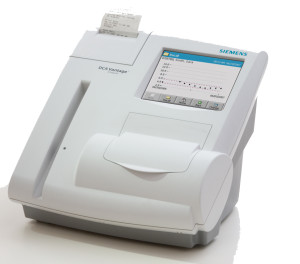 Siemens DCA Vantage+

Accuracy, precision, and reproducibility with the convenience of in-office results.
The DCA Vantage+ analyzer is a point-of-care diabetes management platform that performs both hemoglobin A1c and microalbumin / creatinine tests in minutes. The DCA Vantage+ allows health care professionals to make immediate diabetes management adjustments. Quantitative measurement of HbA1c in blood allows effective preventative treatment to reduce the risk of retinopathy, nephropathy and neuropathy in patients with diabetes. The system also measures low concentrations of albumin, creatinine and albumin/creatinine ratio in urine. The method permits decentralized testing using random urine samples, enabling early detection of complications associated with renal disease
Collect 1-µL/40-µL sample by touching the tip of supplied capillary holder to either fingerstick whole blood (for HbA1c) or random urine (for microalbumin/creatinine ratio).
Insert sample in reagent cartridge by placing the sample-filled capillary holder into the reagent cartridge.
Verify calibration by sliding the loaded reagent cartridge through the slot and past the analyzer's integral bar-code reader to automatically calibrate the instrument.
Insert reagent cartridge into DCA Vantage+Analyzer. Remove the pull tab on the cartridge to release buffer. Close the instrument door to initiate analysis. Total walk-away testing.
Read results display for HbA1c or microalbumin and creatinine values and ratio. Collect both samples, perform all tests, and get results in less than 15 minutes.
Contact Health & Fitness Network today to learn more about the Siemens DCA Vantage+ and to purchase today!