The Biggest Loser reality television show uses the MedGem indirect calorimeter to monitor the contestants Resting Metabolic Rate, as it changes from their exercise and diet plan.
The following excerpt is from the NY Times article titled, "After 'The Biggest Loser,' Their Bodies Fought to Regain Weight."
Contestants lost hundreds of pounds during Season 8, but gained them back. A study of their struggles helps explain why so many people fail to keep off the weight they lose.
Danny Cahill stood, slightly dazed, in a blizzard of confetti as the audience screamed and his family ran on stage. He had won Season 8 of NBC's reality television show "The Biggest Loser," shedding more weight than anyone ever had on the program — an astonishing 239 pounds in seven months.
When he got on the scale for all to see that evening, Dec. 8, 2009, he weighed just 191 pounds, down from 430. Dressed in a T-shirt and knee-length shorts, he was lean, athletic and as handsome as a model.
"I've got my life back," he declared. "I mean, I feel like a million bucks."
Mr. Cahill left the show's stage in Hollywood and flew directly to New York to start a triumphal tour of the talk shows, chatting with Jay Leno, Regis Philbin and Joy Behar. As he heard from fans all over the world, his elation knew no bounds.
But in the years since, more than 100 pounds have crept back onto his 5-foot-11 frame despite his best efforts. In fact, most of that season's 16 contestants have regained much if not all the weight they lost so arduously. Some are even heavier now.
Yet their experiences, while a bitter personal disappointment, have been a gift to science. A study of Season 8's contestants has yielded surprising new discoveries about the physiology of obesity that help explain why so many people struggle unsuccessfully to keep off the weight they lose.
Kevin Hall, a scientist at a federal research center who admits to a weakness for reality TV, had the idea to follow the "Biggest Loser" contestants for six years after that victorious night. The project was the first to measure what happened to people over as long as six years after they had lost large amounts of weight with intensive dieting and exercise.
The results, the researchers said, were stunning. They showed just how hard the body fights back against weight loss.
"It is frightening and amazing," said Dr. Hall, an expert on metabolism at the National Institute of Diabetes and Digestive and Kidney Diseases, which is part of the National Institutes of Health. "I am just blown away."
It has to do with resting metabolism, which determines how many calories a person burns when at rest. When the show began, the contestants, though hugely overweight, had normal metabolisms for their size, meaning they were burning a normal number of calories for people of their weight. When it ended, their metabolisms had slowed radically and their bodies were not burning enough calories to maintain their thinner sizes.
The show's doctor, Robert Huizenga, says he expected the contestants' metabolic rates to fall just after the show, but was hoping for a smaller drop. He questioned, though, whether the measurements six years later were accurate. But maintaining weight loss is difficult, he said, which is why he tells contestants that they should exercise at least nine hours a week and monitor their diets to keep the weight off.
The Biggest Loser uses our indirect calorimeter to help contestants adjust their Daily Calorie Budget.  Dr. Robert Huizenga, Associate Professor of Clinical Medicine at UCLA and Medical Advisor to The Biggest Loser chose it "based on its accuracy in comparison to other indirect calorimeters."
The above study proves why it is so important to measure your clients Resting Metabolic Rate with a MedGem indirect calorimeter, to track how RMR changes so that you can adjust their program accordingly.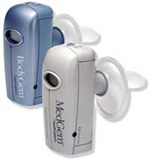 The BodyGem® and MedGem® devices by Microlife are tools that will provide information vital for determining a personalized calorie budget, based on individual metabolism, necessary to achieve and maintain proper weight and nutrition.
Additionally, the BodyGem and MedGem devices play a significant role in providing individual's daily caloric needs to improve individual care through nutrition assessment.
Click on the links for more information on the Microlife BodyGem or MedGem indirect calorimeters
Contact me at 1-800-743-3328 to discuss Microlife BodyGem RMR System Kit pricing options.
Harvey Harris
Save
Save